Vaultara achieved FedRAMP ATO authorization and our Flight package is now listed on the FedRAMP Marketplace as "approved".
Flight is the only FedRAMP authorized image transfer solution available to Government agencies.

Our competition would love you to think they're approved or don't need to be – for once what you see on the internet is actually true. It's taken over 4 years to achieve this status and is not an achievement to be taken lightly.

The MPN was officially released by Vaultara on schedule at the end of March 2023.

VA sites are rigorously testing the MPN feature with multiple partners; other partners keenly waiting for formal approval before deploying in their facilities.
Although the VA has yet to give the green light to use this in production, multiple sites are undergoing testing of this new feature.

Vaultara are constantly looking at how to improve the system. Recent changes which had been planned for some time has shown that we're now processing transactions quicker than ever, whilst processing the highest number of transactions. Q1 2023 we processed 35% more transactions than Q4 2022 and yet dropped the average processing time of a transaction by 19%.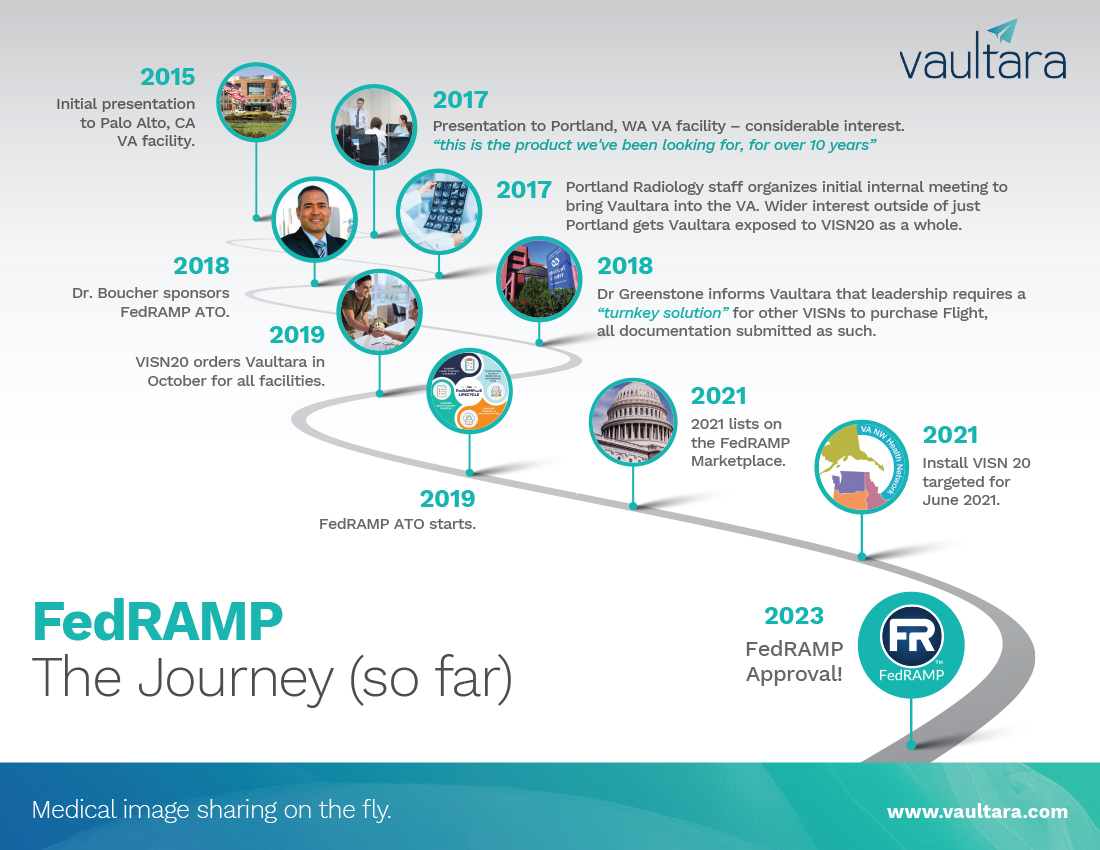 Vaultara Receives FedRAMP "Authorized" Designation
Excelsior, MN. – May 26, 2023 – Vaultara announced today that its image sharing platform "Flight" has achieved a formal FedRAMP "Authorized" designation. With today's announcement, Vaultara becomes the only image sharing provider in the industry with a FedRAMP Authority to Operate ("ATO"). "Flight" is an enterprise-wide software-only solution that provides a secure, bi-directional electronic transfer mechanism to any digital file using Vaultara SaaS technology. Maximizing security, efficiency, and cost savings, the Veterans Administration has leveraged the platform to assist with the Veteran Choice Act. Vaultara provides this solution for quick, secure, contactless data sharing, drastically reducing the need for physical media or opening up external firewall ports on a customer's network.
FedRAMP is a U.S. government program whose mission is to promote the adoption of secure cloud services across the Federal Government by providing a standardized approach to security and risk assessment, authorization, and continuous monitoring for cloud products and services. Designed to simplify security for the digital age, FedRAMP enables federal, state, and local government agencies to rapidly transition to mission-enabling, secure, and cost-effective cloud-based IT. Based on the widely adopted NIST SP 800-53 set of security controls, FedRAMP has also achieved wide recognition among non-government consumers of IT services. Mappings are available between NIST and other popular security frameworks, allowing organizations of any type to accept FedRAMP accreditations within their risk management programs.
"We're seeing government entities increase the amount of information sent between both public and private
environments, which in turn is placing an increased emphasis on the technology used to facilitate them in doing so being FedRAMP compliant," said Dave Monk, CTO for Vaultara. "Our customers are being asked to trust us with their data without having direct visibility into our security practices. Accreditations like FedRAMP assure our customers that an independent, federally authorized auditing organization has inspected our solution from the ground up, found it to be fully compliant, and under such scrutiny has validated the solution by FedRAMP's seal of approval."
"As a SaaS technology company, we understand the importance of and reliance on secure image sharing, especially in environments as sensitive and critical as the federal government," said Robert Martinez, Vice President of Sales at Vaultara. "We're the first and only image-sharing solution to achieve this important security milestone. Our ability to help the Veterans Administration meet the Veterans Choice Act, as well as offering our private hospital customers the same secure image sharing platform is really exciting".
If you would like more information, you can visit the FedRAMP marketplace listing or the Vaultara website. Vaultara is a software company developing next-generation communication platforms committed to eliminating the need for physical deliverables.