Have You Tried a Video Medical Appointment?

Here are facts and resources about VA Video Connect Medical Appointments. 
VA Portland Health Care System (VAPORHCS) has 13 sites of care across 36,000 square miles in two states. The Primary Care Division alone employs 400 staff who strive to provide safe, timely, equitable, effective, efficient, and patient-centered care to the 63,000 Veterans we serve.
Once the COVID pandemic hit, VAPORHCS had to ensure we could maintain clinic operations while also ensuring physical distancing of staff and patients alike. One way we've been able to continue having appointments while limiting foot traffic into our clinic is to leverage the use of Veteran Video Connect (VVC), an application developed for the VA which allows Veterans to participate in a medical appointment using video technology.
VAPORHCS Primary Care has conducted more than 8,000 video visits with our Veterans since the pandemic began. If you have ever used FaceTime or Skype to video chat with someone, you will likely have no problem using VVC. If you have not done something like this before or are unsure about using it, please let your care team know when you make the appointment and a staff member will call you and walk you through it.
Using VVC can be a pleasurable experience; it's easy and a great way to receive the care you need when you need it in the convenience of your home or wherever you are.  Of course, there are situations when face-to-face appointments are more appropriate and that is still an option for our Veterans.
There Are Many Benefits to Video Visits! 
Many of the Veterans we serve are expressing appreciation for the opportunity to be seen without having to come into the clinic. Those who try VVC visits tend to like them.
Here is some feedback from Veterans who have done VVC appointments: 
Veterans like that they can keep themselves and their families safe during the COVID pandemic as they can receive care without exposing themselves to others
Veterans can get appointments sooner! Veterans can often get in within a few days using a VVC video visit!
Veterans do not have to leave their home for the visit – they can access their provider from their couch or kitchen table!
Video visits reduce travel for Veterans wherever they may be – as long as they have internet over their phone or are at a computer where they can access email, they can connect with their provider (must be within the United States)!
No more having to find parking!
Veterans appreciate the assistance and "tech check" they receive from VA staff; our Telehealth team can assist in setting up VVC, downloading the app, or sending Veterans a tablet if they lack a smart phone or computer
How do I get a Video appointment?  
As always, Veterans served by VAPORHCS can call for a Primary Care appointment at 503-220-8262, Option 2, Option 2. 100% of our Primary Care teams are offering VVC video visits.
However, Veterans should inquire with their care teams. Mental Health and other specialties are also offering video visits. Even Physical Therapy! Ask your care team today!
Here are some additional resources about Veteran Video Connect (VVC), the app that the VA is primarily relying on for our video appointments. 
Overview of Veteran Video Connect
https://mobile.va.gov/app/va-video-connect
Video Overview (YouTube Video)
https://www.youtube.com/watch?v=YY6lYrIQ5Ys
VVC FAQs
https://mobile.va.gov/app/va-video-connect#AppFAQ
VVC Instructions
https://www.youtube.com/watch?v=HqhVlt4az-Q
VVC Flyer
http://www.wellvets.com/wp-content/uploads/2020/03/VA-Video-Connect-Flyer.pdf 
VVC User Manual  for Veterans
VA Video Connect Quick Connect Guide (for Apple products)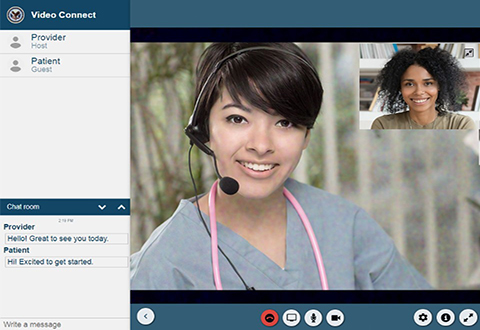 Veterans can now be seen remotely using a smartphone, tablet or computer thanks to Veteran Video Connect (VVC). VVC is an application where the Veteran participates in a video visit with a member of their care team.